Sale!
2019 CrazyFly Kiteboard Raptor LTD
From €475 incl. VAT.
€ 399.16 Outside the EU
VAT-free outside of the EU. The correct price for your destination will appear once you set the delivery country in the sales process.
Delivery time: 1 to 3 days from payment receipt
Scope of delivery:
Full carbon Raptor LTD kiteboard
4 x 5.0 Razor fin set
Board handle
All necessary screws
Optional: Hexa LTD Binding (Straps & Pads)
2019 CrazyFly Kiteboard Raptor LTD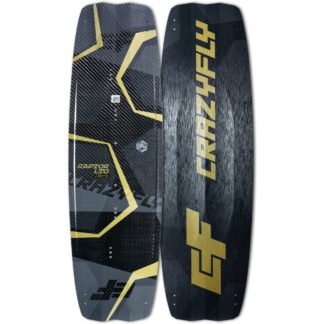 €

475.00 incl. VAT
1 in stock
Select CrazyFly binding
For very wide feet and or the use of thick neoprene shoes, we recommend the Hexa LTD II binding due to its wider adjustment range.
Raptor LTD – the full carbon masterpiece from CrazyFly comes with a brand new shape in 2019. The elliptical double concave shape in the centre of the underwater hull offers unsurpassed riding comfort. For better grip when popping out, the Raptor LTD has been equipped with Double-V-Tips. CrazyFly has spent three years improving the proven shape of the Raptor LTD.
Thanks to the brand new CompFlex 4T5 Carbon on the underside of the board, the Raptor LTD now rides even more comfortably and smoothly, especially in choppy water. The innovative Compflex 4T5 fabric offers more flex without sacrificing high strength.
Included in delivery are: Raptor LTD kiteboard, Razor fins LTD 5.0cm set, board handle, as well as all screws. Optionally, Hexa LTD straps and pads from CrazyFly can be ordered for an additional charge.
3 YEARS WARRANTY
MADE IN EUROPE
CrazyFly offers a three-year warranty on all CrazyFly kites and boards from 2019 onwards. and goes beyond the warranty of other manufacturers. In order to benefit from the warranty, you must return your purchased board or kite to within 30 days of purchase from CrazyFly. You can find all details about the warranty on our page CrazyFly Manufacturer Warranty.